THE FIRST ONLINE STORE
WITH PRODUCTS MADE
BY PEOPLE WHO RECOVERED THEIR FREEDOM
Personal growth
An awakening of consciousness that leads to self-realization. It is an inner and deep process that promotes reconciliation with oneself, one's environment and finally with society. It contributes with support for rehabilitation from addictions to the prison population.
Psychosocial support
Scholarships
Spiritual retreats
Yoga
Motivational Workshops
Coaching
Meditation
Neurolinguistic Programming
Holistic therapy
Mental Health Care
Legal Brigades
Conflict resolution and leadership
Art
Resocialization through art and culture, generating innovating spaces of reconciliation between the prison population and the civil population, through art and culture.
Theatre
Music
Dance
Oral expression
Plastic arts
Literature
Photography
Work and education
Permanent workshops in life project, entrepreneurship and finance education. Training and orientation according to the needs of the labor market, scholarships, assistance and work opportunities.
Creation of a company
Finance Education
Production projects
Inclusive Business
External Restaurant
Internal Agency
Dressmaking workshop
Brand "Libres" Made in the prisons of Colombia
Food Truck "Go Lupe"
Restaurant "Intern"
Diplomas
Innovation and entrepreneurship
Peacekeepers
Sports development
Fashion and beauty business management
Technology Workshop
Internal Link
Financial education workshops
Cybersecurity
Second Chances Home
Productivity and human development space for people who have regained their freedom, inmates, young people from the adolescent penal system and their families.
Productivity
Training and productive workshops for labor reintegration.
Technical and technological training
Gastronomy
Confection
Cosmetics and aesthetics
Employability
Training for work
Oral expression
Image Consulting
Production Workshops
Scholarships
Accompaniment to undertakings
Financial Services
Financial Education
Sales training
Yoga
Psychosocial support
Radicada ley de
Segundas Oportunidades

Junto a congresistas de todas las bancadas se radicó el proyecto de ley Johana Bahamón: Segundas Oportunidades, que busca promover la reinserción laboral de personas que estuvieron privadas su libertad, generando beneficios tributarios y económicos a empresas que contraten personas en dicha condición.

Internos de tres cárceles del país se gradúan en diplomado de Administración

De forma virtual y simultánea, 83 personas privadas de la libertad de las cárceles de Armenia, Bucaramanga y Pitalito se graduaron en el diplomado en administración estratégica de moda. Nuestra meta es poder seguir conectando a más centros penitenciarios y formar a las más de 90.000 personas que se encuentran privadas de la libertad.

Nueva tienda de las
SEGUNDAS OPORTUNIDADES

Abrimos un nuevo espacio de segundas oportunidades para generar empleo a internos, pospenados y sus familias. Segundas Oportunidades está en el centro comercial Nuestro Bogotá, donde los clientes podrán acceder a servicios de tatuajes, piercings, Peluquería y productos hechos en las cárceles de Colombia.

Bioseguridad

En el primer semestre del año, la Fundación Acción Interna siguió con su compromiso de entregarle a la población carcelaria productos de bioseguridad, de higiene personal y alimentos. Fue así como impactamos a todas las personas privadas de la libertad y también a personas recluidas en Unidades de Reacción Inmediata (URI) con más de un millón 600 mil tapabocas, 18 mil kits de aseo y 49 mil elementos de bioseguridad.

Segundas Oportunidades en Popayán

En el marco del convenio "Popayán cree en las Segundas Oportunidades" se desarrollaron actividades para la formación y vinculación productiva y social de las personas pospenadas, privadas de la libertad y sus familias.

Esta iniciativa se gestó como una estrategia de desarrollo económico incluyente, a través de una ruta de resocialización efectiva que logra conectar a las personas beneficiarias con las oportunidades de empleo y emprendimiento, complementados y apoyados en diferentes procesos de formación.

Colección de moda de Segundas Oportunidades con el Grupo Éxito

El 21 de octubre de 2021, en la cárcel Distrital de Bogotá; el perdón, la reconciliación y las #segundasoportunidades protagonizaron la pasarela de lanzamiento de una colección única de 63 referencias de productos que resalta la importancia de estos valores.

La Fundación Acción Interna en alianza con el Grupo Éxito, co-crearon esta colección de moda "con sentido" disponible en todas las tiendas Éxito del país, con la cual se logra dar cumplimiento a objetivos de la Fundación en la generación de ingresos, empleo y desestigmatización de la población carcelaria.

Alimentación gratuita para hijos de mujeres privadas de la libertad

Durante el 2021, en alianza con la fundación Éxito, se entregaron durante todo el año paquetes alimenticios a los hijos de las mujeres que están privadas de libertad en las ciudades de Bogotá, Bucaramanga, Ibagué, Jamundí, Manizales, Medellín y Popayán.

Donaciones

El valor en elementos y servicios donados por la Fundación a la población carcelaria, pospenada y familiares en el segundo semestre de 2021 fue de $668.526.593 (COP).

Segundas Oportunidades en ferias de moda y diseño

En julio la Fundación participó, por primera vez, con su marca Segundas Oportunidades en Colombiamoda, la feria de moda más importante de Colombia.

Lo hizo en alianza con la Escuela de Moda de la Universidad Sergio Arboleda. Allí se lanzó una nueva colección con productos confeccionados por personas privadas de la libertad, pospenados y sus familias.

Luego, en diciembre, estuvo en Buro, una de las ferias de diseño y emprendimientos más reconocidas de Bogotá.
Donations
Help us to continue improving the quality of life of the prison population, post-prisoners and those in vulnerable conditions.
With your contribution we will ensure that thousands of inmates achieve true re-socialization with productive programs and opportunities for social and financial inclusion.
Interno Restaurant
"INTERNO" began as the first restaurant in the world open to the public in a women's prison, today from Casa Segundas Oportunidades it has become a unique model of social reintegration and without a doubt an example of resocialization that bets on the generation of spaces innovators of reconciliation between the prison population and the civilian population, where they work for the improvement of the prison and social sector in Colombia.
Agencia Interna
It is the first advertising agency in the world that was created inside a prison, and in turn operates with people who have already regained their freedom.
Segundas Oportunidades Studio
Store located in Nuestro Bogotá shopping center attended by people who have already regained their freedom.
Services: tattoos, hairdressing and products made in Colombian prisons.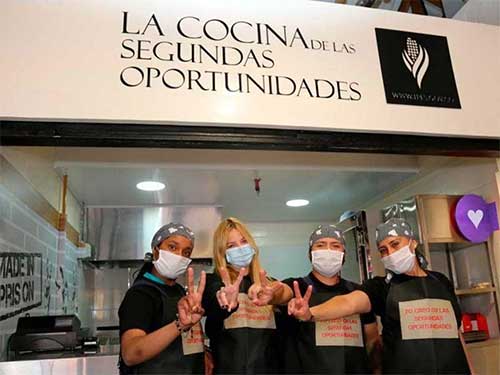 La Cocina de las Segundas Oportunidades
Our kitchen is located in the Plaza de la Concordia, highlighting our Colombian flavors and the best taste of freedom.
Address: Calle 12 # 1-40
Food Truck
Gastronomic entrepreneurship. Available for events in and around the city to offer the Second Chance menu.
Latinoamérica Verde 2021 awards
The Accion Interna Foundation from the Internal Restaurant project obtained 1st place, among 500 organizations, in the Green Latin America Awards 2021 in the HUMAN DEVELOPMENT category — EQUALITY SUBCATEGORY.
Recognition of the good practices of the SDGs of the Global Compact. 2020
Sustainable Development Goals and their associated targets. Recognition granted in the non-business category for the practice of Second Chances and its contribution to SDG 10 "Reduction of Inequalities"
El Dorado Publicidad 2019
Two recognitions granted by the category of Innovation for the construction of Peace with Interna Agency and Interno Restaurant
La Barra awards 2019
Acknowledgments to the Accion Interna Foundation and the Interno Restaurant.
The World's Greatest places 2018
The Interno Restaurant was recognized by Time magazine as one of the 100 best places in the world to visit.
Portafolio Awards 2017
Portfolio Award in the Contribution to the Community category.
Be part of the great team of volunteers of the Internal Action Foundation and help us to create Second Opportunities.
Since 2012 this Foundation works to improve the quality of life of inmates and those who are to be set free in Colombia.
We have worked with over 30.000 inmates in 27 penitentiary facilities around the country.