THE FIRST ONLINE STORE
WITH PRODUCTS MADE
BY PEOPLE WHO RECOVERED THEIR FREEDOM
Personal growth
An awakening of consciousness that leads to self-realization. It is an inner and deep process that promotes reconciliation with oneself, one's environment and finally with society. It contributes with support for rehabilitation from addictions to the prison population.
Psychosocial support
Scholarships
Spiritual retreats
Yoga
Motivational Workshops
Coaching
Meditation
Neurolinguistic Programming
Holistic therapy
Mental Health Care
Legal Brigades
Conflict resolution and leadership
Art
Resocialization through art and culture, generating innovating spaces of reconciliation between the prison population and the civil population, through art and culture.
Theatre
Music
Dance
Oral expression
Plastic arts
Literature
Photography
Work and education
Permanent workshops in life project, entrepreneurship and finance education. Training and orientation according to the needs of the labor market, scholarships, assistance and work opportunities.
Creation of a company
Finance Education
Production projects
Inclusive Business
External Restaurant
Internal Agency
Dressmaking workshop
Brand "Libres" Made in the prisons of Colombia
Food Truck "Go Lupe"
Restaurant "Intern"
Diplomas
Innovation and entrepreneurship
Peacekeepers
Sports development
Fashion and beauty business management
Technology Workshop
Internal Link
Financial education workshops
Cybersecurity
Second Chances Home
Productivity and human development space for people who have regained their freedom, inmates, young people from the adolescent penal system and their families.
Productivity
Training and productive workshops for labor reintegration.
Technical and technological training
Gastronomy
Confection
Cosmetics and aesthetics
Employability
Training for work
Oral expression
Image Consulting
Production Workshops
Scholarships
Accompaniment to undertakings
Financial Services
Financial Education
Sales training
Yoga
Psychosocial support
Ley de Segundas Oportunidades

El 17 de mayo el presidente Iván Duque sancionó la Ley 2208 "Ley Segundas Oportunidades". Durante el acto especial en la Casa de Nariño, El presidente destacó los estímulos tributarios que recibirán las empresas que contraten a personas pospenadas, el respaldo unánime que recibió la propuesta por parte de todas las bancadas del Congreso, la labor y logros de la Fundación Acción Interna y el compromiso del sector privado. Este un gran estímulo y respaldo a las segundas oportunidades que se merece población pospenada y en libertad. Sin lugar a dudas este hecho marca un hito en la historia de la Fundación.

Tejiendo sueños para crear
Segundas Oportunidades

Desarrollamos espacios de formación y práctica en el sector de la moda y confección para personas pospenadas, jóvenes del Sistema de Responsabilidad Penal para Adolescentes y familiares de personas privadas de la libertad.

Mindfulness en las cárceles

Ofrecimos entrenamiento físico y mindfulness a 250 personas de las cárceles del Buen Pastor y Distrital, en Bogotá, para mejorar y fortalecer sus habilidades en el manejo de emociones.

V Festival Nacional de Teatro Carcelario

Cinco cárceles de Colombia (Villavicencio, San Gil, Santa Marta, Cárcel Distrital Bogotá y Pasto) y el Centro De Rehabilitación Renacer de Panamá participaron en la quinta versión del Festival Nacional de Teatro Carcelario con la adaptación de la obra "El Quijote". Por primera vez tuvimos un invitado internacional en nuestro festival.

Música, baile perdón e inclusión

Cumpliendo con las actividades programadas dentro del programa de Arte Interno, 1.162 personas privadas de la libertad de las cárceles El Pedregal en Medellín, Buen Pastor y Distrital de Bogotá, y el Centro de Atención Especializada en Bogotá vivieron momentos de reconciliación y segundas oportunidades con la presentación en vivo de artistas de talla internacional como Karol G, Boza y Jhony Rivera.

Cartas privadas
de la libertad

En febrero, la Fundación lanzó un nuevo proyecto para darle voz a los que no han sido escuchados. "Cartas privadas de la libertad" es un espacio radial y virtual en el que diferentes personalidades de amplio reconocimiento en el país apoyaron las Segundas Oportunidades a través de sus voces. Las cartas fueron escritas desde las celdas de diferentes cárceles del país. Hasta el momento, esta iniciativa ha sido escuchada por más de 2 millones de personas.

Lanzamiento Proyecto Inocente

La Fundación ofrece asistencia jurídica a las personas que han sido condenadas injustamente y que tienen una sentencia debidamente ejecutoriada. El objetivo es ayudarles a demostrar su inocencia y promover iniciativas que disminuyan el número de condenas erradas.
Donations
Help us to continue improving the quality of life of the prison population, post-prisoners and those in vulnerable conditions.
With your contribution we will ensure that thousands of inmates achieve true re-socialization with productive programs and opportunities for social and financial inclusion.
Interno Restaurant
"INTERNO" began as the first restaurant in the world open to the public in a women's prison, today from Casa Segundas Oportunidades it has become a unique model of social reintegration and without a doubt an example of resocialization that bets on the generation of spaces innovators of reconciliation between the prison population and the civilian population, where they work for the improvement of the prison and social sector in Colombia.
Agencia Interna
It is the first advertising agency in the world that was created inside a prison, and in turn operates with people who have already regained their freedom.
Segundas Oportunidades Studio
Store located in Nuestro Bogotá shopping center attended by people who have already regained their freedom.
Services: tattoos, hairdressing and products made in Colombian prisons.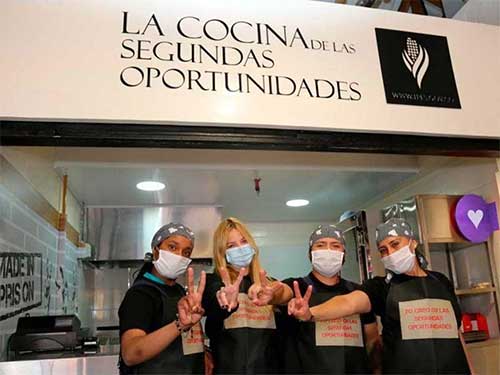 La Cocina de las Segundas Oportunidades
Our kitchen is located in the Plaza de la Concordia, highlighting our Colombian flavors and the best taste of freedom.
Address: Calle 12 # 1-40
Food Truck
Gastronomic entrepreneurship. Available for events in and around the city to offer the Second Chance menu.
Latinoamérica Verde 2021 awards
The Accion Interna Foundation from the Internal Restaurant project obtained 1st place, among 500 organizations, in the Green Latin America Awards 2021 in the HUMAN DEVELOPMENT category — EQUALITY SUBCATEGORY.
Recognition of the good practices of the SDGs of the Global Compact. 2020
Sustainable Development Goals and their associated targets. Recognition granted in the non-business category for the practice of Second Chances and its contribution to SDG 10 "Reduction of Inequalities"
El Dorado Publicidad 2019
Two recognitions granted by the category of Innovation for the construction of Peace with Interna Agency and Interno Restaurant
La Barra awards 2019
Acknowledgments to the Accion Interna Foundation and the Interno Restaurant.
The World's Greatest places 2018
The Interno Restaurant was recognized by Time magazine as one of the 100 best places in the world to visit.
Portafolio Awards 2017
Portfolio Award in the Contribution to the Community category.
Be part of the great team of volunteers of the Internal Action Foundation and help us to create Second Opportunities.
Since 2012 this Foundation works to improve the quality of life of inmates and those who are to be set free in Colombia.
We have worked with over 30.000 inmates in 27 penitentiary facilities around the country.